Main content starts here, tab to start navigating
Mug Club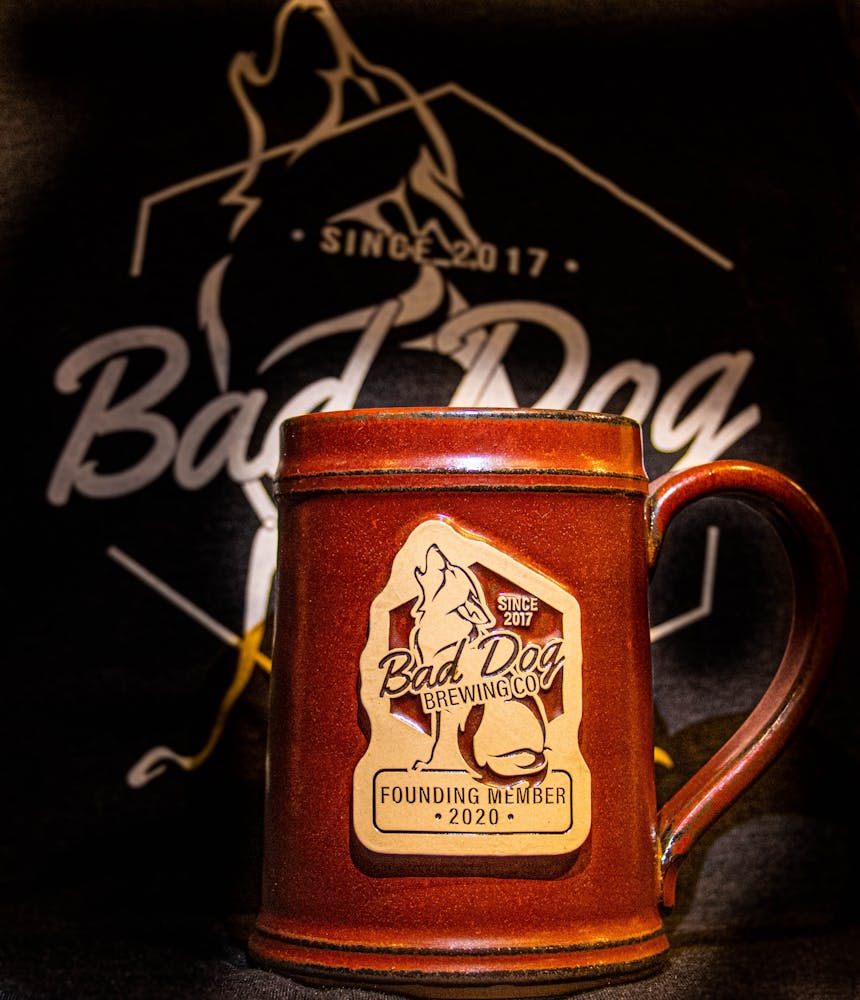 As we approach our opening, we are pleased to announce that our Mug Club will be going on sale this Saturday at noon through our online store.
The Bad Dog Brewing Company Mug Club is an exclusive membership (limited to 100 founding members) who love beer and want to be part of the brewery. The membership provides exclusive, not for sale merchandise, an original piece of the 120 year old firehouse, and access to members only functions and discounts.
The annual membership will run from opening to December 31, 2021.
Annual Membership in the Bad Dog Brewing Company Mug Club includes the following items;
A 20 ounce stoneware mug with the mug club logo on it*
A Mug Club Exclusive T-Shirt
A Mug Club Exclusive Baseball Hat
A Mug Club Exclusive Coaster made from reclaimed wood from the old firehouse
Exclusive Mug Club Parties** and a discount of 10% off all merchandise purchases at the brewery***
*Due to COVID-19 Restrictions, we will not be serving in the Mug Club mug, instead we will be presenting the members with their 2020 Mug to take home. During this period, we will be offering members 20% off all beer purchases for the member. Once the restrictions are lifted, we will be getting new mugs in for the remainder of 2021.
** Events and Parties will be scheduled once COVID-19 restrictions are lifted
*** Does not include Mug Club Membership
Each (21+) guest may purchase up to (2) Mug Club Memberships total for the 2021 season

SELF + 1 GIFT or 2 GIFTS (first-come, first-served while Memberships are available)

Standard rules and restrictions for Mug Club Membership will also apply to Gift Memberships.

Memberships are non-transferrable and non-refundable. The Gift Recipient named on the Gift Membership Signup Form is the only person eligible for enjoyment of Membership Benefits.

The Gift Recipient must be 21 years of age as of being issued the membership number – no exceptions. The Gift Recipient will be asked to verify identity and DOB by showing a valid ID at the start of their first visit in 2021. Once this information is verified, the Gift Recipient will receive their Member ID Card and Membership Benefits become effective Note: Member ID Cards will only be distributed to the named Gift Recipient – no exceptions.

Any violation of Mug Club policy will result in revocation of Membership, without refund to the Gift Purchaser. This includes – but is not limited to – our 21+ policy for all Members.

The Gift Purchaser should be prepared to provide the following information:

Gift Recipient's first/last name and DOB

Gift Recipient's preferred email address – We will want to add them to our members-only email list, so they can take full advantage of all membership benefits.

Gift Purchaser will be able to specify whether or not the initial membership welcome email goes to the Gift Recipient or the Gift Purchaser – we don't want to spoil any holiday surprises!